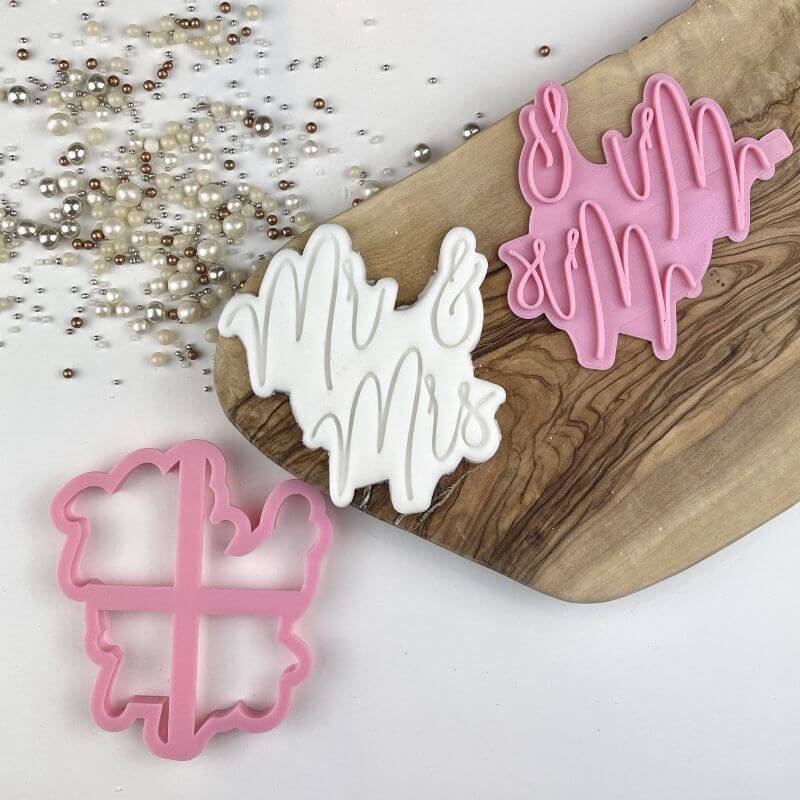 This 'Mr & Mrs in Bluebell Font' Wedding Cookie Cutter and Stamp can be used to create beautiful and repeatable messages for your cookies as well as matching shaped cookies.
Simply press the Stamp into your icing to produce lovely stamped effect. Then press the Cookie Cutter into your icing and/or cookie dough to create a matching shaped cookie to your Stamp. Alternatively, use the cutter to make your cookie dough shape and then decorate using Royal or Glazed Icing.
Dimensions
The Cookie Cutter is approx 75mm wide x 85mm high.
The Cookie Stamp design size is approx 70mm wide x 80mm high.
The Cookie Cutter and Stamp are made from high quality, food certified PLA. These are reusable; after use, wash with a sponge in warm soapy water and dry thoroughly. Do not use any abrasive materials to clean it and do not put it in the dishwasher. We also recommend that you leave to air dry and do not rub with a cloth. Store your Cutter and Stamp flat and in a cool, dry place. LissieLou Cookie Cutters and Stamps are designed and produced to order in the UK.